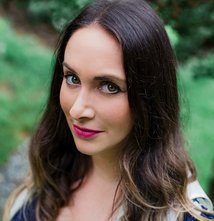 Née en 1986 à Baie-Comeau, Mila dessine et peint depuis qu'elle est toute jeune. Ses études en arts visuels au Cégep de Rivière-du-Loup de 2003 à 2006 lui permettent d'approfondir sa technique et l'amènent à compléter un Baccalauréat en arts visuels et médiatiques à l'Université Laval de 2007 à 2010. Suite à cette formation, l'artiste a envie de transmettre ses connaissances à d'autres qui sont aussi passionnés qu'elle dans le domaine et décide donc de poursuivre ses études et d'obtenir un diplôme d'études supérieures en enseignement au collégial en 2012.
L'artiste travaille principalement le dessin, que ce soit de façon manuelle ou numérique, la peinture à l'acrylique ainsi que la sérigraphie, technique d'estampe pour laquelle elle voue d'ailleurs une grande passion.
Plutôt que de se servir de cette technique comme d'un outil de production d'oeuvres en masse, elle s'en sert pour créer des oeuvres uniques. Elle souhaite amener la sérigraphie à un autre niveau et la présenter à sa façon. Elle ne veut pas que ses oeuvres soient de simples reproductions en plusieurs exemplaires. Mila veut que chacune de celles-ci ait son propre caractère. Elle crée ainsi un contraste intéressant entre une technique de reproduction mécanique et son expression dans l'unicité.
Le but de Mila est de laisser ses oeuvres parler d'elles-mêmes par l'énergie qu'elles dégagent. Séduit, choqué ou en contrôle, elle veut faire ressentir des émotions fortes au spectateur, ces émotions qu'elle même ressent au moment de la création.
Elle présente des personnages, principalement des femmes, très chromatiquement neutres et graphiques afin de créer un contraste entre ceux-ci et l'explosion de couleur qui les entoure, comme s'il s'agissait d'une representation de leur intériorité et de leur personnalité.
Son travail a été publié internationalement dans le livre State of the art – Artist's Book réalisé par la Galerie Aberta au Portugal ainsi que dans le livre Hidden Treasure Art Magazine Yearbook 2014 publié par HT Art Magazine Publishing à Londres. Les oeuvres de Mila font partie de collections privées au Québec.